Day lily is in full bloom in mid- July in the Kurumayama in Nagano
The day lily , perennial plant of the lily family.
Without dying in winter , perennial , plant the flowers bloom every year.
In the plateau of the mountain , beautiful yellow flowers on one side blooms.
Beyond the hill by hill-climbing , day lily , such as a carpet of bright yellow can watch.
http://japloc.info/wp-content/uploads/2013/12/131203_01.jpg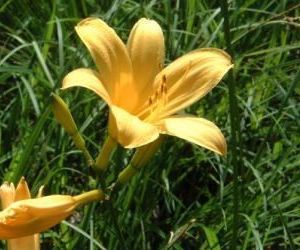 The scene is very beautiful.
Height 50 ~ 80cm. The flower buds can be some tip.
The size is about 10cm flowers flared.
Flower opens in the morning, I wither in the evening
Its features even a little romantic.
Time and season day lily bloom
From being seen clumps of day lily in early August from early May.
Depending places and also altitude.
It is possible to see in the plateau of Japan.
Flower day bloom morning , it 's wither in the evening.
However , flowers are beginning to bloom in sequence from the mountain.
You are in the long period of time comparatively in the day.
It is desirable to see in the early afternoon.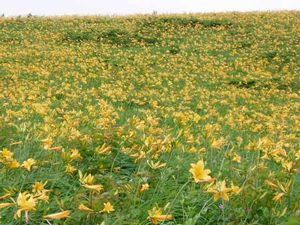 Day lily of Kirifuri Highlands
Kirifuri Highlands is one of the sunlight mountain range.
It is possible to see clumps of day lily Akanagisan hillside , the south slope.
Altitude of about 1300-1600.
Nanoha around July bloom.
The grassland in , gazebo and promenade also be installed , I can enjoy the atmosphere of the open-minded nature.
There is a lift in the old days , I was looking at the day lily from a high place a little.
Had gone now.
In Kirifuri Highlands , there is a need to go up to walk as far as it will bloom day lily.
Let's have a sports shoes.
Nikko Kirifuri Highlands Hemerocallis flat picnic site is open in the spring of 2013.
Access
General Foundation Nature Park Foundation sunlight branch
Address: Nikko, Tochigi Prefecture Tokorono 1531
0288-53 -5337 phone number
Day lily of Oguninuma
Oguninuma is caldera lake of road warriors 4 kg less than in the Fukushima Prefecture.
Altitude about 1000 m.
Mid- July from late June to bloom.
This swamp is designated as a national monument.
Swamp kingdom from Bandai Kogen Station has become hiking trails about 2 hours and 30 minutes.
I go to Kanazawa Pass in the car a long time ago.
There are people that or pee or litter , time that day lily blooms are regulated now.
Instead , Kanazawa Pass trying to use this bus because out.
Of course, let's enjoy hiking and observe the manners.
Day lily of Kirigamine
Located in Nagano Prefecture , Kirigamine is , the foot consisting of a mountain about seven.
The main mountain that make up the Kirigamine are as follows.
Kurumayama (1,925 m)
Ear of the South (1,838 m)
Butterfly Miyama (1,836 m)
Ear to the north (1,829 m)
Ozasa Peak (1,807 m)
Tonoshiro Mountain (1,800 m)
Washigamine (1,798 m)
Cangshan , man and woman (1,776 m)
Among them, the most high , it's the best to go to see the day lily is car mount.
It also famous as wetlands , car mount has been deposited as a layer , such as sphagnum peat acids , plants do not rot.
Mid-July bloom.
Way to go to see the car recommendation.
Proceeding a little from Suwa Chuo Expressway , a former toll road called Venus line.
From here , day lily group can watch.
Day lily is in bloom at the about 1680 ~ 1700m altitude , flowering state varies depending on the height.
However , since the Venus line becomes free , the bloom time of day lily , there will be very congested.
Day lily flower language
Day to day new
And human soothing
If you like this article, please share on your SNS:)