Oikimuchi – Pickled cucumber eat with grilled beef
Do you like grilled beef?
I love grilled beef!
It is good to eat together and rice.
if you eat grilled beef only, it is greasy.
I want to eat the thing that was refreshing.
To be recommended in such a case is Oikimuchi.
You can easily make.
It would be delicious to eat more grilled beef.
It introduces a simple recipe.
Let's try!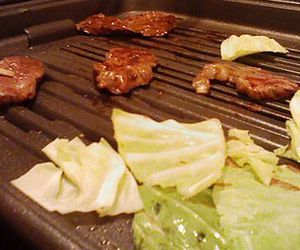 Recipes Oikimuchi
Prepare 4-5 cucumbers straight.
Cut in half at a reduced calyx.
Put 4 tablespoons of salt to water three times cup.
Dip in water completely.
Make a spice in the meantime.
radish (Little-shredded)
carrot (Little-shredded)
Meal red pepper (1 tablespoon)
Sugar (1 tsp.)
Vinegar (1 tsp)
Sesame oil (1 tsp)
Grated garlic (if you like)
Ginger (your choice)
Kelp soup 1 pack
2 cups water
Raise the cucumber soaked.
Go into a cut in the middle.
Soak in spice.
Leave for one or more days.
Marinate in a tightly closed container as much as possible.
You can eat the next day from.
It should be prepared the day before eating grilled beef.
If you say " I wanna to eat today anyway ! "
Knead the plastic bag condiments cucumber and 1 teaspoon salt
It's frankly a slight but can be eaten the same day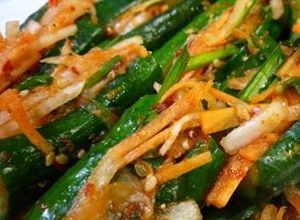 Calories Oikimuchi
Calories Oikimuchi 1 This 30kcal cucumber.
Quite healthy.
Calories over it and just grilled beef , you must notice .
Let's eat delicious grilled beef with Oikimuchi.
If you like this article, please share on your SNS:)